A day at our adventure park can be exhilarating!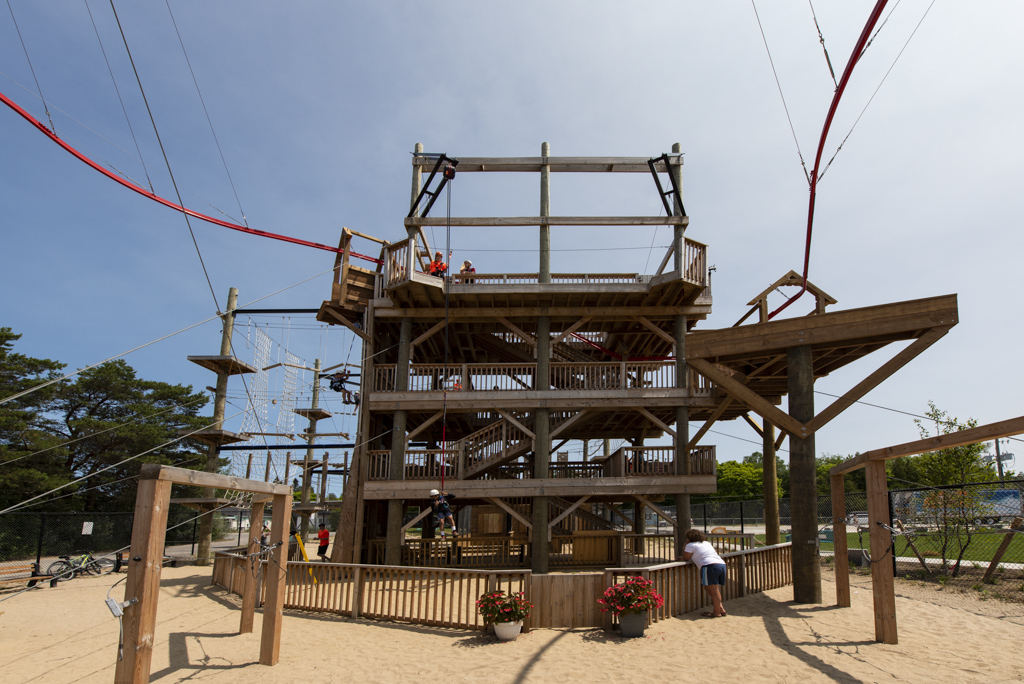 There is no doubt that there are plenty of things to do in Sauble Beach, Ontario. A day in the sun and water along the world's second-longest freshwater beach could be just what you are looking for. On the other hand, if you are a bit more adventurous, we welcome you to check out our adventure park. Here at Ascent Aerial Park, we give you a bird's eye view of the area with several different attractions we are sure you, your friends, and your family will love.
Ropes Course – Our 3-level ropes course has no time limit so you can enjoy the simple lower level or challenge yourself to go through all 30 obstacles, each different from the last, as you work your way higher and higher. Do you have what it takes to complete all 30 challenges? To participate, you must be 6 years of age or above and have a minimum reach height of 6 feet 2 inches (187 cm) or be accompanied by someone who does. You must also be less than 285 pounds (129 kg).
The Climbing Wall – Whether you want to see if wall climbing is for you or you are training for rock face climbing and want to strengthen your hands and body, you'll find our wall climbing experience to be fun and challenging. There are three different routes, so you'll find what fits your skill level – beginner, intermediate, and advanced. Rates are based on each 15 minutes you spend on the wall. To participate, you must be between 22 pounds and 285 pounds (10 kg / 129 kg).
Jump Experience – It doesn't get simpler than this or more exhilarating. Just climb to the top of a 40-foot tower, get clipped in, and JUMP! The rate includes two jumps from the tower. To participate, you must be between 44 pounds and 285 pounds (20 kg / 129 kg).
Zip Coaster – New this year, Canada's first and ONLY SKY Glider ZIP Coaster is a breathtaking experience. The rate includes two rides. Contact us for more information about this activity in our adventure park. Guests must be under 6 foot 2 inches tall and weigh less than 110 kg (242 lbs).
Axe Throwing – Our axe throwing lanes are available for one or two hours for teams of four participants. If you are new to this sport, our staff will help you get the hang of it in no time and give you a few tips and tricks. Participants must be 10 years of age or older.
Whether you visit our adventure park for one or two attractions or make a day of it with a full day pass, family day pass, or season pass, we are confident you'll agree that a day at the beach can be totally exhilarating!